Wealth of Wisdom
3,000 Years of
Timeless Truth from the Treasury of Scripture
"But store up for yourselves treasures in heaven, where moths and vermin do not destroy, and where thieves do not break in and steal. For where your treasure is, there your heart will be also."
Parable of the Shrewd Manager
"One who is faithful in a very little is also faithful in much, and one who is dishonest in a very little is also dishonest in much. If then you have not been faithful in the unrighteous wealth, who will entrust to you the true riches?" — Luke 16
Parable of the Rich Fool

"But God said to him, 'You fool! This very night your soul is required of you; and now who will own all the things you have prepared?' So it is for the one who continues to store up and hoard possessions for himself, and is not rich [in his relationship] toward God." — Luke 12:20-21
Subscribe for Daily Bible Wisdom!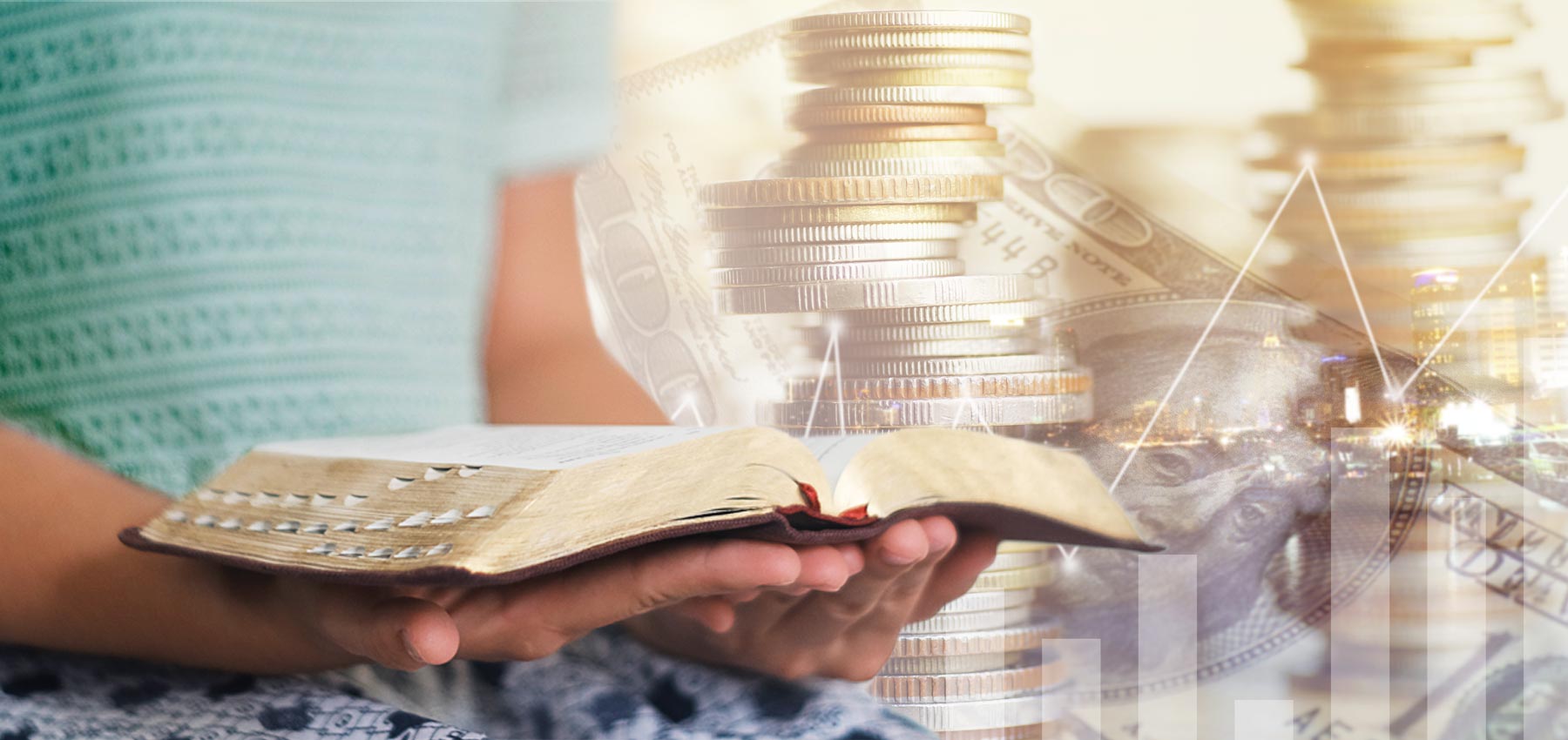 Jesus says "Watch out! Be on your guard against all kinds of greed; life does not consist in an abundance of possessions."
10% of Christ's teachings concern the topic of money.

There is a purpose Jesus spoke about money so often.

There is a reason "Thou Shall Not Covet" is the Tenth commandment of the Old Testament [Deuteronomy 5:21, Exodus 20:17, Matthew 5:27-28]

Why, God? Lord, lend us Your Wisdom!
---
Teach us to number our days, that we may gain a heart of wisdom. [Psalm 90:12]
Today how many of you would consider yourself content or well-off with your current financial situation?

Would you consider yourself to be a somewhat greedy person?

Of those of you who say that they are "content" (not greedy), how many of you are currently in pursuit of more things?
I'm willing to bet many of you would say, "I've got too much!"

And you're in the process of getting more — What sense does that make?

How then can we truly say ourselves satisfied and count our hearts content with what all we have?
Indeed, inside all of us do we feel a deep desire, a need, an internal struggle to pursue a higher calling, something greater than the only offerings of this world!

Abiding within each alive and breathing soul is a God-shaped vacuum in our hearts, being born again as children in the image of Christ's creation.

He has hidden within our hearts eternity — the treasure chests of everlasting life [Luke 12:34, Ecclesiastes 3:11, Psalm 119:11].

Imagine! Eternity.

His Holy Word and Wisdom, His perfect presence, power, precious and priceless Truth, His hidden treasure which is the gift of His Son Jesus Christ who has everlasting love living inside each of us forever.

All money's anxiety and attachment to negativity
Curse of Covetousness: Money's Many Problems
| | | | |
| --- | --- | --- | --- |
| greed | fear of loss aversion | uncertainty | doom |
| doubts | debt | worry | anxiety |
| attachment | false sense of security | conscienceless consumerism | misery |
| arrogance | ignorance | boastfulness | blindness |
| mindlessness | tragedy of the commons | resource curse | environmental destruction |
| economic crisis | market manipulation | bribery | war usury |
| embezzlement | theft | financial fraud | loan sharking |
| laundering | forgery | counterfeiting | insider trading |
"For the love of money is a root of all kinds of evil. Some people, eager for money, have wandered from the faith and pierced themselves with many griefs"
– 1st Timothy 6:10
have at its root cause [1st Timothy 6:10] an eternal problem of sin nature originating inwardly from a critical condition of the heart — all money issues at their core are actually cutting heart issues, God and Christ issues, in their inception [Psalm 51:1, Jeremiah 17:9, Matthew 5:27-28, James 1:15].
Cure in Christ: Soul's Solution in Salvation!
God's Sovereignty is our soul's solution and sole sufficiency, the Wisdom of Jesus fulfills our soul and makes it whole!

Christ heals the holes of our hearts by entering into us with His Holy Spirit [Matthew 5:17-20], endowing us with His amazing grace, awesome power, all-abiding, all-encompassing, and almighty love. Allelujah!

Jesus is our sole sufficiency: Jesus is the joy of our hearts! Christ is our completeness and contentment! [2nd Corinthians 12:9; Philippians 4:13, 19; Nehemiah 8:10]

Tragedy starts when we fill the room and emptiness in our hearts, "broken cisterns that cannot hold water," [Jeremiah 2:13] with just stuff, placeholders, possessions, and the other temporary material things of this world…

True treasure then begins with an accurate understanding, a reverent, awesome [Hebrews 12:28-29], high and holy view of God:
The fear of the Lord is the beginning of knowledge

— Proverbs 1:7a
The fear of the LORD is the beginning of wisdom, and knowledge of the Holy One is understanding.

Proverbs 9:10
I will praise You for I am fearfully and wonderfully made. Marvelous are Your works, and I know this full very well.

Psalm 139:14
Praying in peace and humility before the Lord, I ask each of you and for my own good's sake to:
Receive the wisdom and the power and the presence of the Holy Spirit

Who [Ephesians Receive wisdom and comprehension, knowledge and understanding, might and strength from the Holy Spirit [Ephesians 3:14]
Help us put off past attachments for any material possessions that carry us away from Christ Jesus the One True God [Matthew 4:10-11, Deuteronomy 6:13, Isaiah 43:18-20, Hebrews 2:1] and
Heal our hearts by turning our eyes toward eternity, as we ascend up unto Mount Zion, City of the Living God and into His Holy Kingdom of Heaven, in our souls' spiritual pilgrimage to finally receive the prize that God has called us heavenward in the Name of Christ Jesus! [Philippians 3:14]
Let us close together in the Lord's prayer
"Pray, then, in this way:

'Our Father, who is in heaven,
Hallowed be Your name.

'Your kingdom come,
Your will be done
On earth as it is in heaven.

'Give us this day our daily bread.

'And forgive us our debts, as we have forgiven our debtors.

'And do not lead us into temptation, but deliver us from evil.

For Yours is the kingdom and the power and the glory forever.

Amen.'

— Matthew 6:9-13
Subscribe for Daily Bible Wisdom!
Processing… Praying..
Amen! Brother & sister you're in our book :]
Whoops! There was an error and we couldn't process your subscription. Please reload the page and try again.
Bethel-Blog Feed
Why do you see the speck that is in your brother's eye, but the log in your eye you do not notice?How do you say to your brother, " My brother,permit me, and I will remove the speck that is in your eye", but you do not see the log that is in your eye.Hypocrite!…
More Posts
Privacy Policy
All Scripture quotations, unless otherwise indicated, are taken from the Holy Bible, NLT ® All rights reserved.
All Scripture quotations marked AMP are taken from The Amplified Bible Copyright © 2004. All rights reserved.
Disclaimer
This blog is not intended to take the place of sound professional financial, legal, religious, or psychological advice. Neither the author and its affiliates assume any liability for possible adequate consequences as a result of the information contained herein. Please exercise personal, individual and spiritual responsibility for the lessons listed on our site and tempered with wisdom, caution, advisory, and discretion.
Bible on Money Copyright © 2020 by Kevin Hung
Reblogged this on Bible About Money and commented: 37 Jesus replied: "'Love the Lord your God with all your heart…

Reblogged this on Bible About Money and commented: 24"No one can serve two masters. Either you will hate the one…

Reblogged this on Bible About Money and commented: Do Not Worry 25 "Therefore I tell you, do not worry about…

Reblogged this on Bible About Money and commented: 24"No one can serve two masters. Either you will hate the one…

Reblogged this on Bible About Money and commented: The Parable of the Shrewd Manager 12And if you have not been…